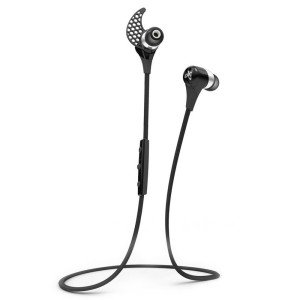 Want to listen to your iPod without wires dangling everywhere? Are you looking for a way to enjoy your music outdoors or on the sports field? The JayBird BlueBuds Bluetooth headphones are capable for delivering good signals to your headphones without a wired connection. This means you can enjoy your music collection wherever you go with the minimal hassle and discomfort. It is designed for the professional sportsmen and outdoor enthusiasts.
Overview of Features
The JayBird BlueBuds headphones offer an excellent audio experience for a wireless headset without compromising on quality. It features a long battery life of eight hours nonstop play time. It has an excellent design featuring comfortable ear cushions and patented secure fit ear buds. The ear buds are linked with a simple cord which can be fitted in the traditional way or can be easily flicked over the back of the neck. It uses an enhanced Bluetooth codec technology called Shift, as well as Signal Plus to boost audio quality. It also offers lifetime warranty against damage from sweat.
Explanation of Features
The secure fit ear buds are specially designed so they grab onto a large proportion of the ear's surface area, reducing the chance of the headphones falling out even on large motions. This is ideal if you are active jogging or doing your fitness workouts. A lot of people complain of the sacrifice in music quality with wireless headsets. The JayBird headphones compensate for this by using its special Shift codec rather than the native Bluetooth SBC codec. This allows it to preserve good music quality whilst preserving the ease of use of normal Bluetooth devices. Signal Plus technology helps eliminate interruptions caused when the wireless signals are blocked by your own body. The signal enhancement means that you can listen to your music as long as the music device is in the near proximity, whether it is your bag or your own clothing. JayBird BluBuds headphones also features advanced Liquipel sweat repellant nano technology, which is contained in a special surrounding layer. This helps prevent sweat damage and increases product longevity.
Final Verdict
The JayBird BlueBuds headphones provide good music quality for outdoor sportsmen. Though the quality is slightly downgraded, it probably provides the best listening experience for a wireless design. It also offers a good listening range so it is perfect for people who are physically active. It is also small and lightweight in its design, so it is easy to carry around when you are outside. Together with its long battery life and lifetime warranty against sweat damage, it makes it an unbeatable option for sports use. If you want an ideal option to listen to your music using wireless headphones, then JayBird BlueBuds headphones are perfect for the job. Get them now to enjoy the best listening experience when you are outdoors!
CLICK HERE TO CHECK OUT THE JAYBIRDS BLUEBUDS AT AMAZON.COM…
[easyazon_block add_to_cart="default" align="left" asin="B00AIRUOI8″ cloaking="default" layout="top" localization="default" locale="US" nofollow="default" new_window="default" tag="singleearhead-20″]